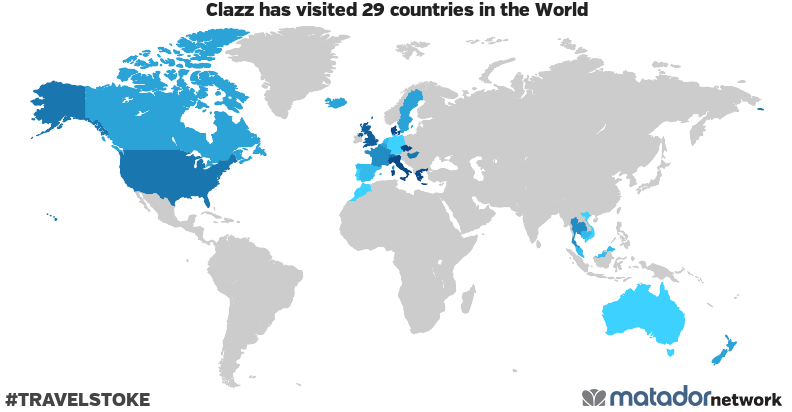 I've kind of given up on "country counting".
I mean, I like to keep a tally of where I've been, but according to the Matador map above I've been to 29 countries, and according to my list, I've been to 28. Which is it, world? And what are borders anyway? Europe has gained an inordinate amount of countries in the past 20 years.
But regardless of how many countries various platforms think I've been to, here's a nicely organised list of places I've been along with corresponding blog posts.
AND, in keeping with my obsession with maps, here's a handy map with all my blog posts on, too!
All countries below link to their categories; all destinations within the countries link to blog posts I have written about them where applicable.
(17 countries)
BELGIUM • Adinkirk | Ieper
CZECH REPUBLIC • Prague
DENMARK • Copenhagen
FRANCE • Dunkerque | Paris
GERMANY • Berlin | Munich
GIBRALTAR
GREECE • Athens
HUNGARY • Budapest
ICELAND • Reykjavik & south coast
ITALY • Milan | Rome | Venice
NETHERLANDS • Amsterdam
PORTUGAL • Faro | Lagoa | Lagos | Lisbon
SPAIN • Algeciras | Barcelona | La Linea | Seville | Tarifa
SWEDEN • Malmo
SWITZERLAND • Adelboden
UNITED KINGDOM • England | Scotland | Wales
VATICAN CITY
(2 countries)
USA • 26 states • Arizona | Arkansas | California | Colorado | Connecticut | D.C. | Florida | Hawaii | Idaho | Maine | Maryland | Massachussetts | Montana | Nevada | New Hampshire (worked) | New Jersey | New Mexico | New York | Oregon | Tennessee | Texas | Utah | Vermont | Virginia | Washington | Wyoming
Not including states I've driven through but not stopped in like Delaware & Georgia
CANADA • 3 provinces • British Columbia (lived) | Alberta | Ontario
(6 countries)
CAMBODIA • Phnom Penh | Siem Reap | Sihanoukville
HONG KONG
MALAYSIA • Kuala Lumpur | Penang
SINGAPORE
THAILAND • Ayutthaya | Bangkok | Chiang Mai | Elephant Nature Park | Khanom | Koh Lanta | Koh Phangan | Koh Phi Phi | Koh Tao | Krabi | Railay | Surat Thani
VIETNAM • Hanoi | Halong | Hoi An | Hué | Nha Trang | Ninh Binh | Saigon
(2 countries)
AUSTRALIA • 1770 | Adelaide | Agnes Water | Airlie Beach | Bowen | Brisbane: lived | Bundaberg | Byron Bay | Cairns | Canberra | Cape Hillsborough | Cracow: worked | Echucha | Fraser Island | Gold Coast | Mackay | Magnetic Island | Melbourne | Mildura: lived | Mission Beach | Noosa | Port Douglas | Rainbow Beach | Rockhampton | Rutherglen | Sunshine Coast | Sydney | Townsville | Tully | Whitsundays | Wyong Creek: worked
NEW ZEALAND • Auckland | Christchurch | Hobbiton | Kaikoura | Lake Tekapo | Milford Sound | Mount Sunday | Queenstown | Rotorua | Te Anau | Wanaka | Wellington
(1 country)